Dehydrated Alfalfa Meal
Alfalfa Meal is a Perfect Supplement for your Horse's Diet!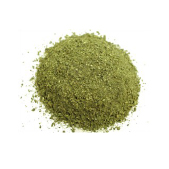 If you've ever been around horses, you'll know they love alfalfa meal as a tasty treat. Organic gardeners know for another reason: it's a great natural fertilizer for perennials and shrubs to help them bloom faster and longer during the season. Read on for more alfalfa meal gardening info for an efficient soil conditioner as well as a boost to your flowering plants.
What is alfalfa meal? This natural garden booster is a product of the alfalfa plant that has been ground into meal. It's light and airy looking and has a pleasant, earthy small.
Although you may be able to find alfalfa meal at some larger garden centers, it may be easier and less expensive to get at feed and animal stores. If you're near the country or if you have an all-purpose animal supply house in the area, check there.